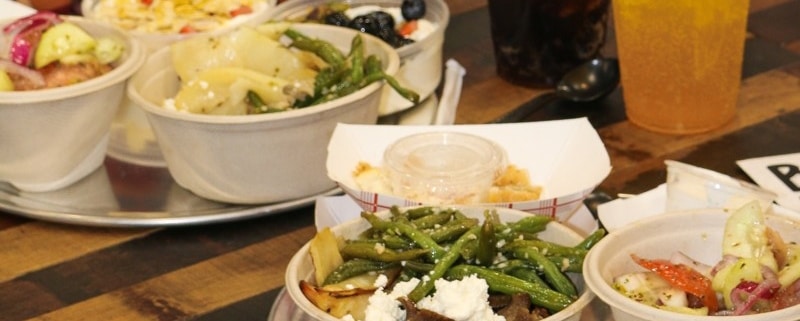 Calling all gyro-lovers — if you haven't yet, it's time to embrace this Round Rock restaurant opening.
The Simple Greek, a Mediterranean eatery concept born on the CNBC's TV reality program "The Profit," will be getting two dozen franchise openings around the country. One of its new locations includes a front that debuted Thursday in Round Rock at 3200 Greenlawn Blvd, Ste. 280.
The hit show features entrepreneur Marcus Lemonis and his business ventures, where he offers small, struggling businesses capital investment and his expertise in exchange for ownership stake in the company.
Lemonis said he believes The Simple Greek will strike a chord with health-conscious customers and countless foodies in and around Central Texas.
"Coming from a Greek family, I am particularly excited to expand The Simple Greek dining experience across the country and give our customers convenient access to delicious and healthy food with reasonable prices," Lemonis said in a media release. "We look forward to meeting customers when we open our doors for the first time in each new city, and to have them sample our wonderful authentic food."
The restaurant states it is "redefining Greek cuisine" by taking a traditional setting and meshing it with a interactive concept. Premium ingredients, open kitchens and a modern, casual atmosphere will define The Simple Greek experience. The menu includes salads, pitas, bowls and Greek yogurt with a variety of toppings and sides.
Local franchise owner Ted Schonauer said the moment he saw The Simple Greek on TV he knew he was interested.
"It has that Chipotle-goes-to-Athens vibe," Schonauer said in a media release. "Fast casual is the hottest trend in the restaurant industry and people in Central Texas love healthy food that doesn't bust the budget."

Article sourced from: http://www.statesman.com/news/local/the-profit-greek-restaurant-spices-round-rock/THq8gyel5UTRSDzSTBBfTO/
https://thesimplegreek.com/wp-content/uploads/2019/08/newsEngin.17862189_IMG_0458.jpg
621
800
mckenzie cross
https://thesimplegreek.com/wp-content/uploads/2019/06/TSG_Logo_FullColor_White_SpaceAboveSmall.png
mckenzie cross
2017-02-22 16:46:47
2019-11-01 16:56:21
The Profit' Greek restaurant spices up Round Rock